Most of the articles below require Adobe Reader,
click here
to download.
Solving Problems with Photovoltaic Water Pumping
Oregon Office of Energy

Some Oregon ranchers have found that solar-powered water pumping is a cost-effective way to give their cattle a drink.
Solar-powered Livestock Watering Systems
National Center for Appropriate Technology

Remote or off-grid pumping (including solar, windmill, and generator-power) provides cost-effective livestock watering sources far from the utility grid.
To Track… Or Not To Track

By Richard Perez
Home Power (#101 June/July 2004)

Trackers can increase your energy production from 25 to 40 percent annually. Home Power's Richard Perez takes a look at the advantages and disadvantages or thermal and electrically operated trackers and highlights Zomeworks Track Racks™.
Tracked
Home Power (#131 June and July 2009)
by Justine Sanchez
PV array Systems and Performance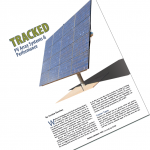 The Southern Star: From Catastrophe to Inspiration
By Tom Lane

Following the devastation of Hurricane Andrew, Al Ford asked Energy Conservation Services of North Florida to develop a solar electric system to power his large Florida home in the event of another hurricane-caused grid failure. He also wanted to set a renewable energy example for others. His impressive system, featuring Zomeworks Track Racks™,will surely do both.
This article is available from Home Power (#70 April/May 1999, pp. 14-20)
SDG&E Solar Energy Project
By SDG&E
San Diego Gas & Electric

FRESH WATER FOR IRAQ'S CHOLERA STRICKEN REGIONS
Sept. 2009 Rescue Green Magazine