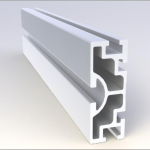 Zomeworks' engineered universal aluminum module mounting rails are now integrated into all of Zomeworks Track Rack™ and Fixed Rack product lines. It is extruded from 6063 T-6 mill finish aluminum and will accept standard 1/4″ or 5/16″ stainless steel module mounting hardware. It weighs less and is stronger than the traditional steel rails. It will be easier to handle, install, it's naturally corrosion resistant and requires no maintenance.
The ALEX 60 rail can be purchased separately, please call for pricing.
Engineering certification for the UTRF168 Tracker for California as well as New Mexico, using the new aluminum extrusion are available by clicking the links below.